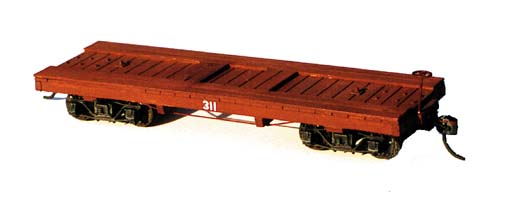 Equipment version shown
West Side Lumber Company
Logging Flat Car
For most of this century, the West Side Lumber Company hauled huge logs from the California forests on simple, small flatcars. A most flexible piece of equipment, these cars ended up being the basis for boxcars, cabooses, and utility flatcars on the WSLCo.
The kit can be built as either a logging flat car or the equipment flat car. It consists of laser-cut wood components designed for fast assembly. A single-piece frame, deck, and pre-drilled holes (well, most are!) allow the modeler to build this car in about an hour. Grandt Line nut-bolt-washer castings, custom decals, and brass brake components round out the kit. Designed for Kadee HO couplers, the kit is less trucks and couplers.
| | | |
| --- | --- | --- |
| #09421 | WSLCo 24' Logging Flat Car, Sn3 | $ 19.95 |
| #09422 | WSLCo 24' Logging Flat Car, Sn3, 5-pack | $ 89.95 |
Experience Logging in O and S scales!
---
Logging Project Links
---
---
Overall Mill Plan
---
Sawdust Shed
---
Planing Shed
---
Pump House
---
Log Dump
---
Drying Kiln
---
Tramway & Storage Yard
---
Boxcar Storage Shed
---
Bunk Car Set I
---
Bunk Car Set II
---
---
Other Projects