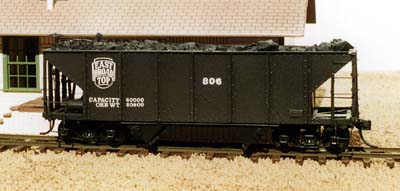 #800 Two-Bay Hopper, Original Version
The Two-Bay Coal Hoppers in urethane! A major revision of the details includes hollow hoppers, new slope sheets, integrated bulb angles on the sides and ends, dimples for drilling the grab iron mounting holes, pre-bent grab irons, decals for several lettering schemes, and more interior detail. Less trucks & couplers.
E.B.T. Two-Bay Hopper, #800-series, Sn3
Kit #09100 - Sold Out
---
E.B.T. Project Links
---
Tank Cars
---
Hoppers
---
Cabooses
---
Wood Boxcars
---
Various Stations
Saltillo
Three Springs
Coles
Orbisonia
---
Water Tanks
Saltillo Tank
---
Sanding Facilities
---
Engine Houses
---
Steam Locomotives
#11 2-6-2
#12 2-8-2
---
Friends of the East Broad Top
---
E.B.T.

---
---
Other Projects