Scroll Down for More Photos!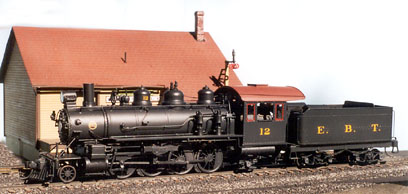 Baldwin 2-8-2, #12
#12 was the first mikado to grace the East Broad Top's rail back in 1911, and she is still the pride of the operation today. Named "Millie" after the start of her tourist years in 1960, #12 typifies the Baldwin Locomotive Works' construction after the turn of the century.
A small number of these kits are built in New Zealand. Available in Kit Form and Semi-Kit with assembled mechanism, the #12 will be in high demand for collectors, those who want to accurately model the E.B.T., or those simply wishing to point to their locos proudly and say "I built it!"
Our kits consist of white metal and lost-wax brass castings and photoetched brass sheets. Assembly can be done with low-temp solder, epoxy, or ACC. Only simple hand tools are required. When assembled and painted, you cannot distinguish our models from a full brass import.
E.B.T. 2-8-2 #12
Sn3 - Full Kit
#06105
Retired
Sn3 - Semi-Kit
#06205
Retired