Densmore Tank Car
This tank car was designed and tested in 1865 by Amos and James Densmore in the Oil Creek Valley near Titusville, PA. The Densmore Oil Company was able to save $170 off the shipping costs to New York using their tank car vs using individual barrels that had been the standard method of transport. Each tank held forty-two to forty-five barrels of oil, or about 1,700 gallons. By the summer of 1866, hundreds of these cars were in use.
The actual date that prototype first ran is still confusing... one source states 'early 1865' and two others say September 1865. Since the USMRR was still around several months after the end of the war, it is possible this car ran behind a USMRR loco.
The Densmore patent was issued in 1866 and these cars, and a longer three-vat version, were the hot thing until 1869 when the horizontal metal tank version took over.
The model features laser-cut wood with hardware in plastic and lost-wax brass. The paint scheme and lettering is speculation since no data has been found. Less decals, trucks and couplers.
#29605 HO Scale Densmore Tank Car $ 29.95
#19605 O Scale Densmore Tank Car $ 49.95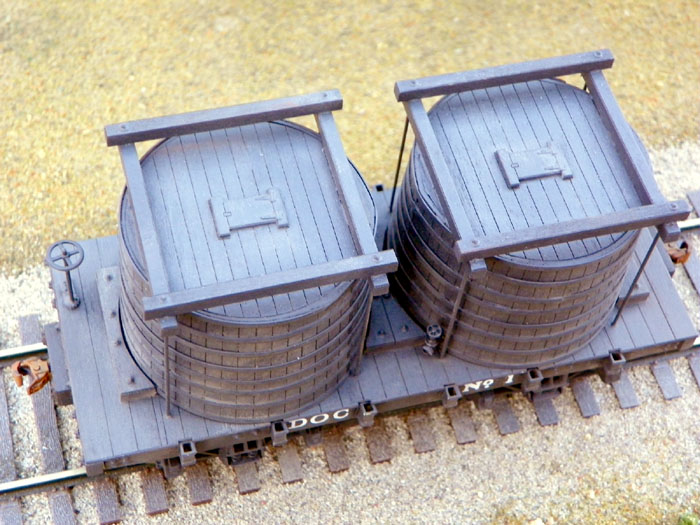 O Scale Version shown