Providing Great Products
since 1979!
General Information
---
What is in the box? Our laser-cut kits feature sheets of parts,
each with a laser-engraved part number near by or on the part.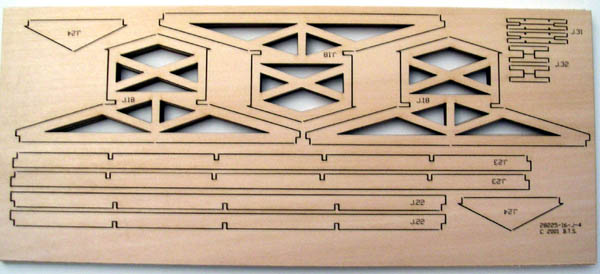 The instructions have received many very positive compliments. Click here to see a sample.
---
Ever wonder what all goes into making a kit? Take a look at our Kit Assembly!
---
Product Lines
With our acquisition of Master Creations, we needed to determine how the M-C product lines would fit with our existing B.T.S. line. In other words, why would one building get one label and a slightly different one get another. After some heavy-duty pondering, here is the breakdown of the product lines:
Master Creations

Limited Edition Craftsman Structure Kits. These will be museum-quality, freelanced models that have the ultimate level of detail. Laser cut, naturally!

B.T.S. Structures

Usually these small-to-medium structures will be in production for several years; some may be limited editions. These are miniatures of real structures for the modeler who wants to model a specific area or road, and they will work well for many other lines also. As in the case with the East Broad Top series, there may be several buildings offered for the same road. Most are laser-cut, but pre-cut scale lumber is used where it works better.

---

Design Criteria and Themes

Continuity is important to many model railroaders. The "Victorian-Gothic" look of many of the earlier M-C kits is well liked and it will continue on some of the future releases. The McCabe Series will continue and the four kits announced prior to our acquisition, Sawdust Shed, Power House, Pump House, and Log Dump, will be made. The Cabin Creek Series will be around for years to come, and a new series featuring buildings of the South has been introduced.

There is one basic design requirement for all of our kits - it must be realistic. Even on the freelanced buildings, if there is a pipe, vent, or door added, there must be a valid reason for it being there. We will not just stick something on a building just to add character! While this is only toy trains, we want you to have the best possible realism in your fantasy world!
---
---
Last Changed on: November 12, 2006
© 1998-2006 -- All Rights Reserved