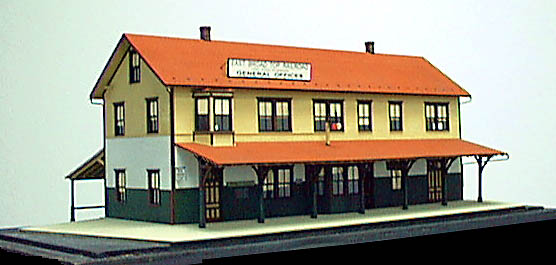 Finally, a station bigger than the locomotive! This is the O Scale model of the 1935 version of the East Broad Top's Orbisonia Station.
Orbisonia Station
In the town of Rockhill Furnace, PA stands the home of the East Broad Top Railroad, the Orbisonia Station. Built right after the turn of the century, this depot still serves passengers for the E.B.T. tourist operation.
Since this is a very limited edition, we went the extra mile to please you and have custom-created your kit one of three ways: 1907 - as built without the front platform roof; 1935 - with the platform roof, no door on the south side; or 1955 - when the line shut down the post office had been moved to the south end. Let us know your preference when ordering.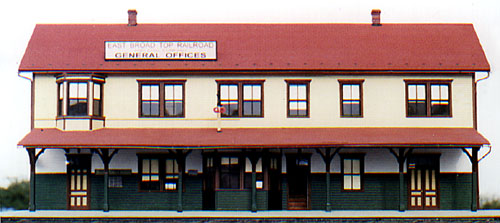 This kit consists of laser-cut basswood and plywood, pre-cut adhesive-backed shingles, signs, and correctly-spaced siding. The tabbed construction eases assembly. This station is big, about 60' x 80' over the roof eaves, so leave lots of room for it! You will find 600 parts in the box which allows you to build a museum-quality model.
Quantities are limited!
Basic interior, floors, walls and staircase, is included in the kit. The center section of the second floor removes for access to the ground floor.
The station as it looks today; this is what we call the 1955 version.....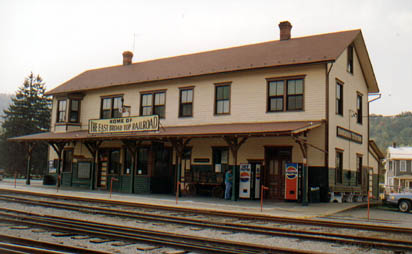 Take a walk around the model.....
E.B.T. Orbisonia Station
S Scale
#7127
$350.00
O Scale
#17127
$429.95
---
---