According to the East Tennessee and Western North Carolina Railroad Historical Society publication, The Blue Ridge Stemwinder, the Hampton, TN covered thru-truss bridge was built in 1881 as on open bridge, then rebuilt and covered around 1892. The 118' bridge survived the abandonment of the line in 1950, but a few years later was torn down. Photos of the prototype can be seen in the Spring 1992 edition of the Stemwinder.
The model consists of laser-cut wood parts that build into a realistic, and very strong, bridge. The roof is removable for maintenance. Includes two stone walls for the abutments; rail and spikes are not included.
Approx. Size - 18' x 118'
#07140 Sn3 Howe Thru-Truss Covered Bridge $129.95

#27140 HOn3 Howe Thru-Truss Covered Bridge $ 89.95
S Scale Model Shown Below.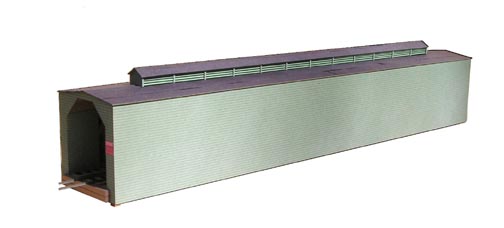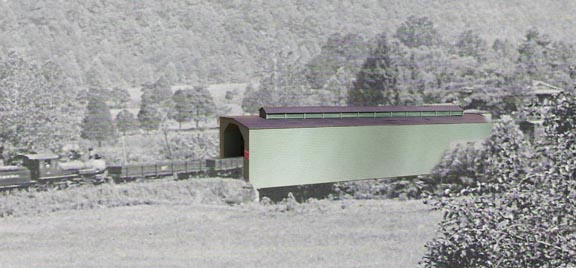 Original B&W photo above by Ed Bond was published in the Spring 1992
Blue Ridge Stemwinder and is used with permission from John R Waite.
---
Bridge Links
---
Cheat Run Trestle
Standard Gauge
---
Cheat Run Trestle
Narrow Gauge
---
Covered Truss Bridge
Standard Gauge
---
Ballasted Deck Trestle