Not all trestles are tall or long. In many areas, small trestles are used to cross gullies and stream, and this one is about eight scale feet above the stream bed. The Cheat Run trestle is patterned after one built in 1906 in Illinois. Standard gauge version shown in the photos - narrow gauge version is basically the same just a scale feet narrower.
The model consists of laser-cut wood parts that build into a realistic, and very strong, trestle. Rail and spikes are not included. Approximate Size - 12' x 27'
#07143 Sn3 Cheat Run Trestle $ 27.95

#17143 On3/30 Cheat Run Trestle $ 37.95

#27143 HOn3 Cheat Run Trestle $ 23.95
HO Scale Model Shown Below.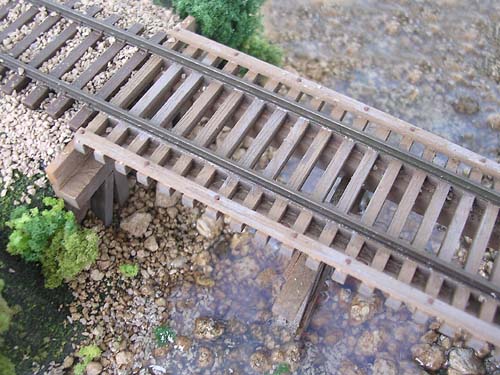 ---
Bridge Links
---
Cheat Run Trestle
Standard Gauge
---
Ballasted Deck Trestle
---
Covered Truss Bridge
Narrow Gauge
---
Covered Truss Bridge
Standard Gauge
---