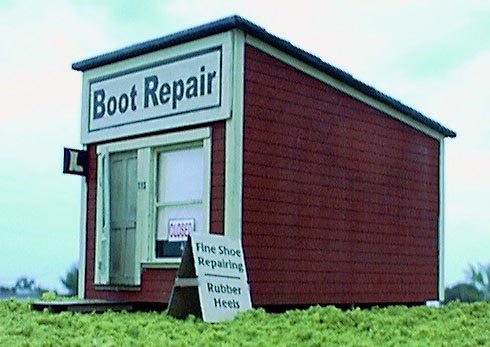 Boot Repair Shop
Roy was always pleased when he saw that a man was "well heeled." It usually meant that Roy had a touch more money in his pocket. After all, he owned the only boot repair in Cabin Creek. What with all the lumberjacks, and the crowd down at the mill and on the railroad, business was great.
Problem was it was so good that he never had time to fix that sticking screen door. It would jam unless you gave it a good tug. So half the time, it was sticking open. One day, he promised himself, it will get fixed.
The Boot Repair never saw a slow day until the mill shut down. After that, it was never the same. Roy finally had time to fix the door.
This new kit consists of laser-cut basswood, plywood, and matt board, roofing, signs, wire mesh, smokejack, and loads of character. It was inspired by a photo in the May/June 1998 Gazette. The tabbed, well-engineered construction provides easy assembly. The footprint is about 15' x 24'.
Boot Repair Shop
S Scale
#07230
$ 28.95
O Scale
#17230
$ 36.95
HO Scale
#27230
$ 24.95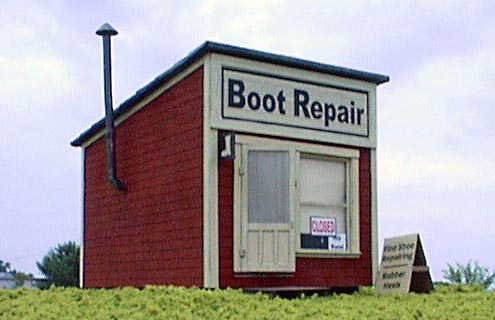 ---
Cabin Creek Projects
---
Flagstop Station
---
Flagstop Covered Platforms
---
Flagstop Platforms
---
Coal Tipple
---
Small Store
---
East End Grocery
---
Greeley's Place
---
Alfred, Bascom & Co. Hardware
---
Post Office
---
Singer Watch Repair
---
Fire Station No.1
---
Company House
---
Superintendent's House
---
Company Store
---
Pansy's Cafe
---
Hawkins Hotel
---
Miss Catherine's - Ladies' Finery
---
Rickett's Lumber Yard
---
Turner's Machine Shop
---
Leatherbark Tavern
---
Rural Church
---
---
Other B.T.S. Projects