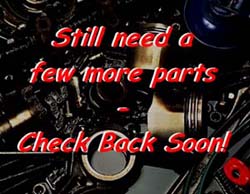 Alfred, Bascom & Co. Hardware
Three years after the war, two brothers opened the first store in Cabin Creek that was dedicated to nothing but hardware. Alfred, a man with many diverse talents, and Bascom, a skilled painter with experience on the railroad, ran the business until the untimely death of Bascomb in the early-1940's. Alfred never got over the loss of his brother; he eventually sold the business and moved away. Since the "ABC" had become synonymous with hardware, Fletcher Dukes, the new owner, left the name the same. Rumor has it that he was just too cheap to change the sign!
The ABC Hardware store provided a means for making a living, and a small living quarters for the owners above the selling floor. In later years, the owners lived in a larger house, and gave the head clerk free room as part of his pay. Expansion after the great depression resulted in the addition of the lean-to on the side.
This new kit consists of laser-cut basswood, plywood, and matt board, adhesive-backed shingles, signs, and loads of character. The tabbed, well-engineered construction provides easy assembly. The footprint is about 20' x 30'.
Alfred, Bascom & Co. Hardware
S Scale
# 7228
$ TBA
O Scale
#17228
$ TBA
HO Scale
#27228
$ TBA
---
Cabin Creek Projects
---
Flagstop Station
---
Flagstop Covered Platforms
---
Flagstop Platforms
---
Coal Tipple
---
Small Store
---
East End Grocery
---
Greeley's Place
---
Boot Repair Shop
---
Post Office
---
Singer Watch Repair
---
Fire Station No.1
---
Company House
---
Superintendent's House
---
Company Store
---
Pansy's Cafe
---
Hawkins Hotel
---
Miss Catherine's - Ladies' Finery
---
Rickett's Lumber Yard
---
Turner's Machine Shop
---
Leatherbark Tavern
---
Rural Church
---
---
Other B.T.S. Projects