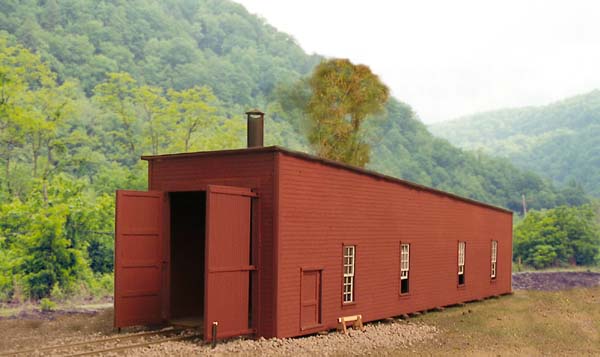 Single-Stall Switcher Shed
Every small-to-medium yard needs a place to store the switcher overnight. This small shed was based upon a Milwaukee Road prototype and was built for small steam locos. Later the stack was moved to the middle of the shed when diesels came along.
This new kit consists of laser-cut basswood, plywood, and cardstock, tarpaper roofing, detail castings, and loads of character. The doors are positionable open or closed. The tabbed, well-engineered construction provides fast and easy assembly. The footprint is approximately 21' x 73' - interior floor is included; track is not.
Single-Stall Switcher Shed
S Scale
#07502
$99.95
O Scale
#17502
$139.95
HO Scale
#27502
$59.95
TT Scale
#37502
$39.95
---
Other
New River Yard
Projects
---
Freight Station
---
MoW Shed
---
Handcar Shed
---
Loading Dock
---
Boxcar Storage Shed
---
LCL Ramp
---
Signal Maintainer's Storage
---
Other B.T.S. Projects