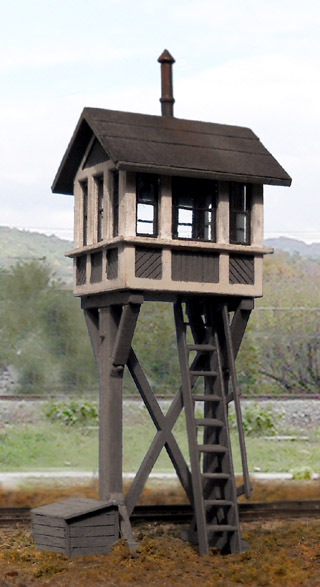 Elevated Crossing Shanty
Before the invention of automatic gate control at grade crossing, the heavy use crossings had a flagman on duty to lower the gates to protect lives. Some crossing shanties were elevated to give the flagman a better view. This crossing shanty is based upon one from the D&H that was still in use in the early 1960s.
This kit consists of laser-cut basswood, plywood, and cardstock, with white metal & plastic detail castings. The tabbed construction and peel-and-stick window sashes ease assembly. The footprint, over the roof eaves, is approximately 9' x 9'.
Elevated Crossing Shanty
#07505
S Scale
$26.95
#17505
O Scale
$29.95
#27505
HO Scale
$21.95
---
Other
New River Yard
Projects
---
Freight Station
---
MoW Shed
---
Switcher Shed
---
Handcar Shed
---
Loading Dock
---
Boxcar Storage Shed
---
LCL Ramp
---
Signal Maintainer's Storage
---
Yard Office
---
Other B.T.S. Projects