McCabe Planing Shed
The B.T.S. McCabe Lumber Co. Series now has a Planing Shed; but it should be called a planing mill since it is more complex than a simple shed. The first version built by McCabe prior to the big fire was a simple shed, and no matter how big the operation has grown, the name still sticks!
The planing complex consists of the transfer dock where dried lumber is moved via tram to the planers, the original building, the new large addition, boiler house, water tank, and loads of neat, realistic details! The McCabe Sawdust Shed is a perfect compliment to the Planing Shed.
This kit consists of laser-cut basswood, plywood, and cardstock, tarpaper roofing, brass, urethane, and white-metal detail castings, and loads of character. The tabbed, well-engineered construction provides fast and easy assembly. The footprint is about 70' x 90'. HO model shown; some details may vary between scales. HO and O scale kits are in stock; the S version will be out soon. All are limited edition kits.


     #08225     S Scale    $ 439.95
     #18225     O Scale    $ 499.95
     #28225    HO Scale    $ 229.95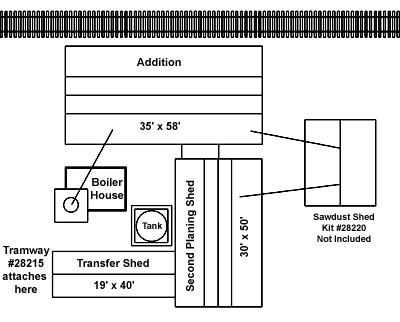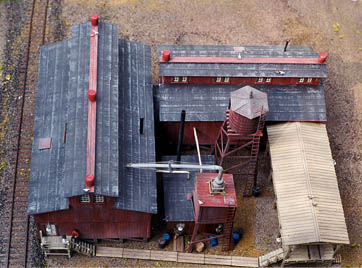 Chopper View of the HO complex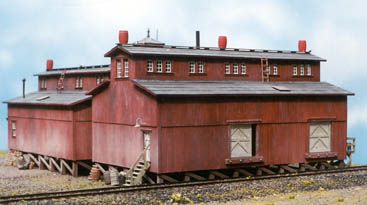 Northwest Corner of the complex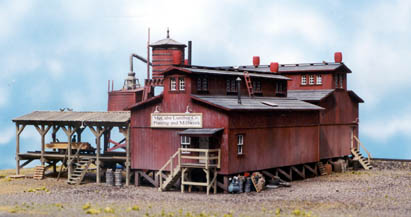 Eastern View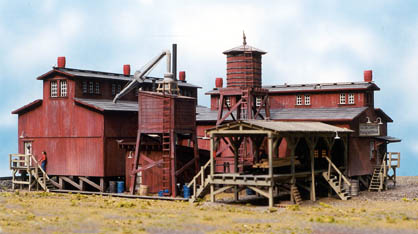 Southern View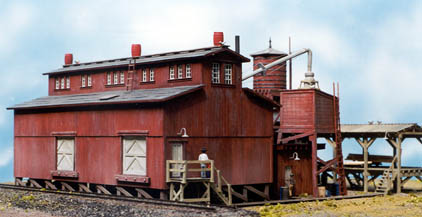 View from the southwest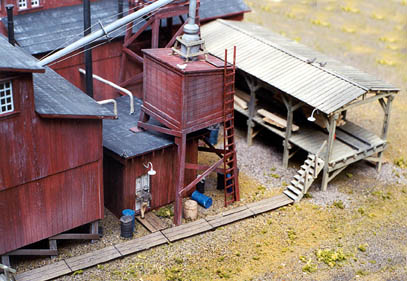 Boiler House
---
Logging Project Links
---
Overall Mill Plan
---
Slatyfork Sawmill
---
Sawmill Interior
---
Power House
---
Sawdust Shed
---
Log Dump
---
Pump House
---
Drying Kiln
---
Tramway & Storage Yard
---
Fire Hose Storage and Water Tank
---
Boxcar Storage Shed
---
Camp Car Set I & II
---
Fire Train
---
MoW Speeders
---
Company Office
---
McCabe Log Cars
---
Other Projects