McCabe Drying Kiln
The B.T.S. McCabe Lumber Co. Series now has a Drying Kiln.
In the kiln, steam heat is piped through radiators generating a lot of dry heat that will dry out the lumber faster than air drying. Cartloads of lumber are rolled into the kiln, the doors closed and heat applied.
This kit consists of laser-cut basswood, plywood, and cardstock, tarpaper roofing, 20 detail castings (in the HO kit), and a very complex appearance. The tabbed, well-engineered construction provides fast and easy assembly.
The footprint is about 33' x 50' including 13' of deck on the front. If the Tramway (#28250) is to be included in your complex, it will be easier to build the kiln and the tramway at the same time. HO model shown; some details may vary between scales. It is a limited edition kit.


     #08230     S Scale    $ 129.95
     #18230     O Scale    $ 149.95
     #28230    HO Scale    $  69.95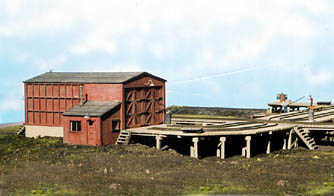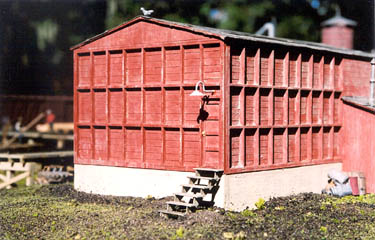 ---
Logging Project Links
---
Overall Mill Plan
---
Slatyfork Sawmill
---
Sawmill Interior
---
Power House
---
Sawdust Shed
---
Planing Shed
---
Log Dump
---
Pump House
---
Tramway & Storage Yard
---
Fire Hose Storage and Water Tank
---
Boxcar Storage Shed
---
Camp Car Set I & II
---
Fire Train
---
MoW Speeders
---
Company Office
---
McCabe Log Cars
---
Other Projects