McCabe Power House
At the Slatyfork Sawmill, the power house is the thing that makes everything work. The original boiler house was rebuilt after the 1933 fire and the addition was added to the back to house larger boilers. Steam from these two boilers power the steam engines in the mill, and provide heat to the kiln. In 1940, the dynamo house was added to the side of the boiler house and a small steam engine was installed to turn the dynamos and generate electrical power. Sawdust from the bandsaws becomes fuel for the boilers and is stored in the large bin until needed.

This Master Creations' kit consists of laser-cut basswood, plywood, cardstock and detail castings. Interior walls and floors are included, as are several power poles and the large power junction behind the dynamo house. And the standard features of B.T.S. kits are there... positionable doors and window sashes, slot and tab construction, peel & stick window sashes, brass door knobs, removable roofs, and well-engineered construction providing fast and easy assembly.

The footprint of the building is about 60' x 54'. Most castings are not shown in the photos here!

This is a Limited Edition kit and is available direct only from B.T.S..

#28295 HO Scale $ 139.95

#18295 O Scale $ 259.95

#08295 S Scale $ 239.95

Back Side View.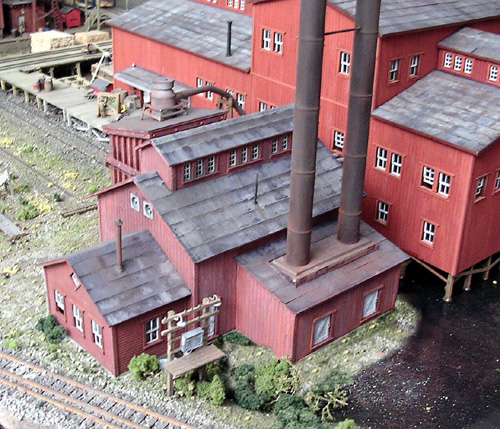 Footprint.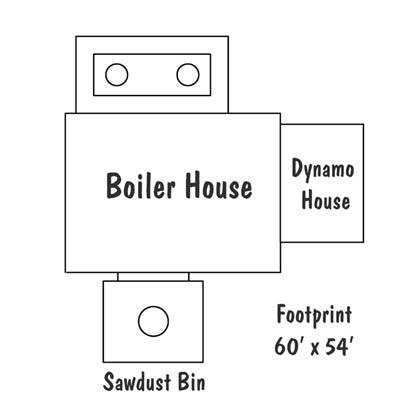 ---
Logging Project Links
---
Overall Mill Plan
---
Slatyfork Sawmill
---
Sawmill Interior
---
Sawdust Shed
---
Planing Shed
---
Log Dump
---
Pump House
---
Drying Kiln
---
Fire Hose Storage and Water Tank
---
Boxcar Storage Shed
---
Camp Car Set I & II
---
Fire Train
---
MoW Speeders
---
Company Office
---
McCabe Log Cars
---
Other Projects