McCabe Tramway & Storage Yard
The B.T.S. McCabe Lumber Co. Series Tramway connects the sawmill to the storage yard, drying kiln, and planing shed. It is a key feature of the complex. In this kit are the eight drying platforms, cart turntable, single and double track tramways, and the loading docks.
As the lumber is cut in the sawmill, it is stacked on four-wheel carts and pushed out on the tramway to the storage yard. There it is stacked on platforms and allowed to air dry. Layers of lumber are separated by thin boards to allow the air to circulate. At the McCabe facility, the loading dock for boxcars is part of the tramway.
This kit consists of laser-cut basswood, plywood, detail castings, and a very complex appearance. However, the well-engineered construction provides fast and easy assembly. Weathered rail and spikes are part of this kit, as are the laser-cut spike holes! And in the box are hundreds of pieces of pre-cut lumber for stacking in the yard. If the Drying Kiln is to be included in your complex, it will be easier to build the kiln and the tramway at the same time.
The footprint is about 100' x 110'. And because of our engineering, it can be assembled in one of several different positions to better fit your layout. HO model shown; some details may vary between scales. It is a limited edition kit.



     #08250     S Scale    $199.95
     #18250     O Scale    $239.95
     #28250    HO Scale    $119.95



In case the basic kit is not large enough to handle your specific needs, there are two add-on kits. The first add-on contains six additional storage platforms, more detail castings, and more pre-cut lumber.



     #08240   McCabe Drying Platforms 	  S Scale    $ 34.95
     #18240   McCabe Drying Platforms 	  O Scale    $ 39.95
     #28240   McCabe Drying Platforms	 HO Scale    $ 19.95

And if you need additional tramway, the second add-on kit includes approximately 35' of single track tramway and 40' of double-track tramway. It is not a stand-alone kit.



     #08255   McCabe Tramway Extension 	  S Scale    $ 65.95
     #18255   McCabe Tramway Extension 	  O Scale    $ 69.95
     #28255   McCabe Tramway Extension   HO Scale    $ 39.95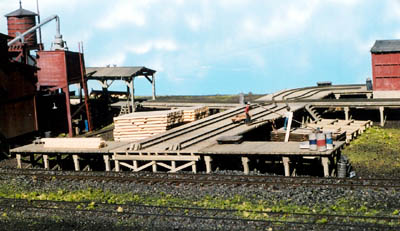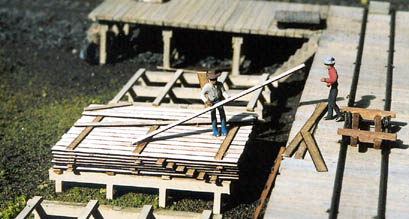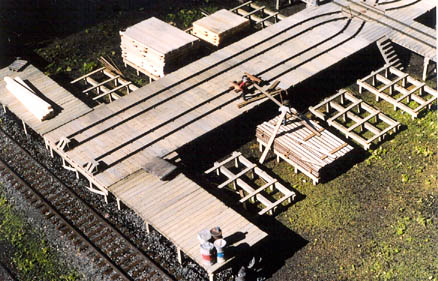 ---
Logging Project Links
---
Overall Mill Plan
---
Slatyfork Sawmill
---
Sawmill Interior
---
Power House
---
Sawdust Shed
---
Planing Shed
---
Log Dump
---
Pump House
---
Drying Kiln
---
Fire Hose Storage and Water Tank
---
Boxcar Storage Shed
---
Camp Car Set I & II
---
Fire Train
---
MoW Speeders
---
Company Office
---
McCabe Log Cars
---
Other Projects