McCabe Company Office
The B.T.S. McCabe Lumber Co. Series Company Office is the location of the sales reps, purchasing agents, accountants, clerks, and the office of John T. McCabe. It can be located right on the sawmill property or on main street in town.
This kit consists of laser-cut basswood, plywood, corrugated metal (HO only), and detail castings. Interior walls and floors are included. And the standard features of B.T.S. kits are there... positionable doors and window sashes, slot and tab construction, brass door knobs, and well-engineered construction providing fast and easy assembly.
Minor details will vary between scales. S and O kits feature peel and stick shingles.
The footprint is about 18' x 36'. It is a limited edition kit.



     #08285     S Scale    $ 119.95
     #18285     O Scale    $ 134.95
     #28285    HO Scale    $  69.95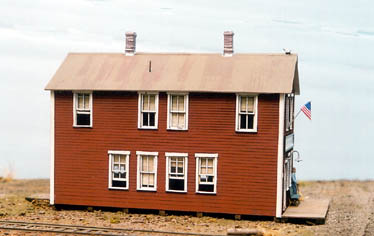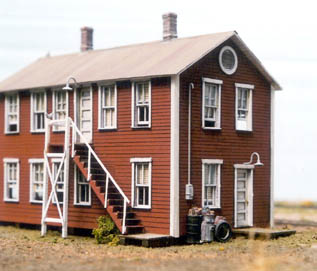 ---
Logging Project Links
---
Overall Mill Plan
---
Slatyfork Sawmill
---
Sawmill Interior
---
Power House
---
Sawdust Shed
---
Planing Shed
---
Log Dump
---
Pump House
---
Drying Kiln
---
Fire Hose Storage and Water Tank
---
Boxcar Storage Shed
---
Camp Car Set I & II
---
Fire Train
---
MoW Speeders
---
McCabe Log Cars
---
Other Projects